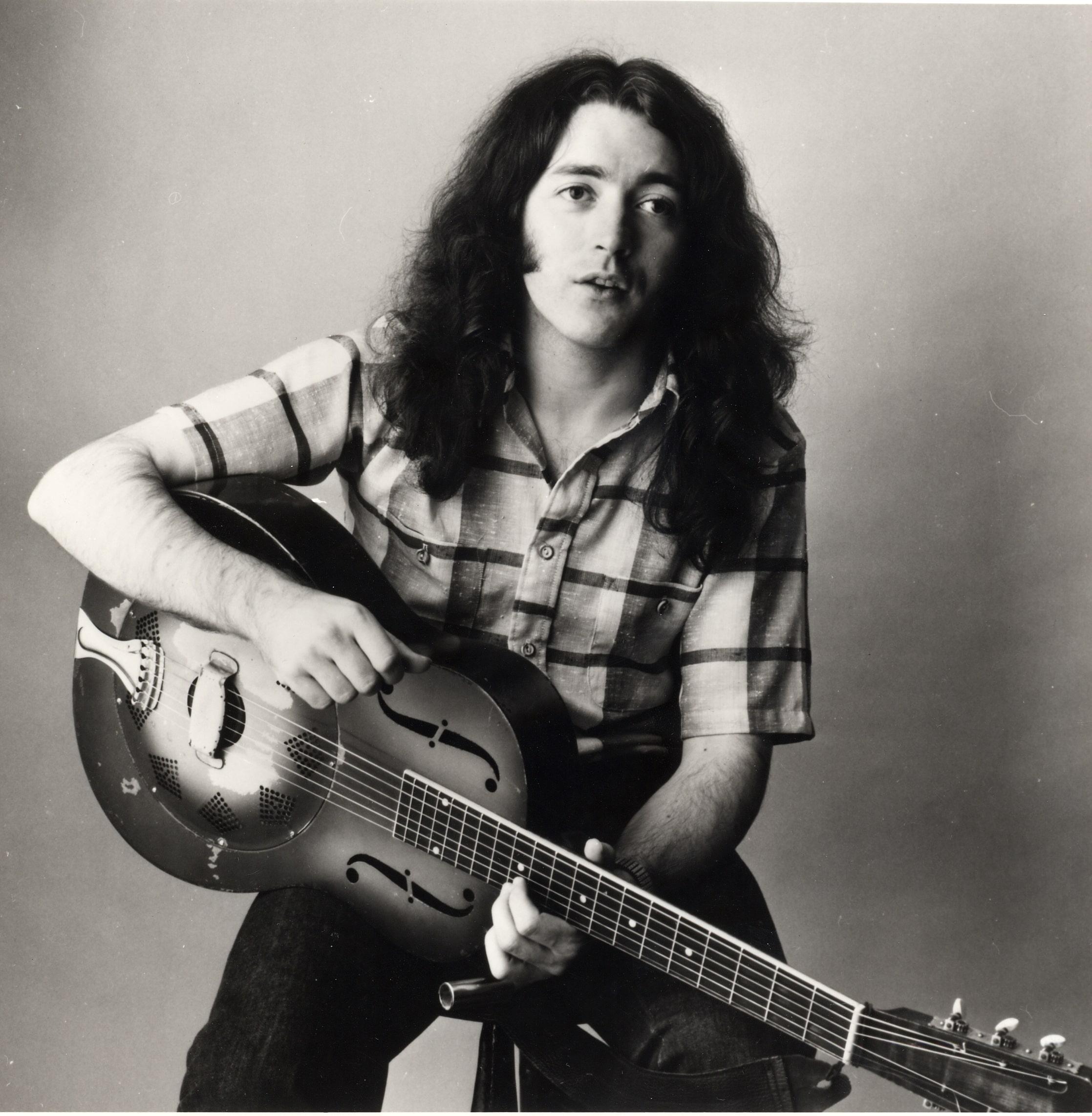 The Donegal born guitarist first learnt and developed his trade on this island before travelling all over the world to spread his electrifying adaptation of the blues and rock and roll. With a professional career spanning close to thirty years, Gallagher wowed audiences on home soil and overseas with his soulful stage performances and sublime technical ability. Today, Gallagher's contribution to the world of blues and Ireland continues to be celebrated. Since 2002, the Rory Gallagher International Tribute Festival has taken place in Ballyshannon, County Donegal, where fans descend on the guitarist's birth town for a weekend packed full of local and international bands.
Rory Gallagher was born on March 2 1948 and moved from Donegal to Cork as a child. Gallagher first got his hands on a guitar around the age of nine and it is through song books which contained chord progressions of great American blues, folk and R&B artists such as Woody Guthrie, Lead Belly, Chuck Berry and Fats Domino, that he taught himself to play. Gallagher played guitar throughout his school years and like most musicians in Ireland at that time, he signed up to be a part of the Irish showband circuit in 1963 by joining The Fontana Showband.
It is in these formative years that Gallagher developed his style and began gaining a reputation for being an accomplished guitar player. Not long after joining the The Fontana Showband, Gallagher is said to have purchased his now iconic Fender 1961 Sunburst Stratocaster, which he played constantly throughout his whole career. The story goes that the guitar was originally owned by the leader of another showband, but when it arrived in Sunburst instead of his preferred colour of Fiesta Red, the band leader sold it to a shop in Cork where Gallagher then arranged to pay for the guitar in installments.
In 1965, The Fontana Showband changed their name to The Impact and with this, the band progressed to a more fiery blues influenced sound. The band mostly played the Cork and Limerick showband circuit and even appeared on RTE's saturday evening music show 'Pickin' The Pops'. All didn't go according to RTE's plans though, when, in an act of defiance, Gallagher chose for the band to play a cover of Larry Williams' thrilling Rhythm & Blues track Slow Down instead of the sweeter and previously arranged Buddy Holly track, Valley of Tears. The Impact crossed over to the UK for a number of performances and even played across Europe at US air bases before eventually calling it a day.
Gallagher set up his first band outside of the showband circuit in 1966 with the formation of the power rock trio, Taste. After forming in Cork, things escalated quickly as the band enjoyed a busy four year run. Highlights included opening for Cream at the band's farewell concert at the Royal Albert Hall in 1968, supporting the supergroup Blind Faith on their US tour in 1969 as well as playing the now legendary Isle of Wight Festival in 1970. Stunning video footage of the band's festival appearance exists, demonstrating Gallagher's sensational musicianship despite only being in his early twenties. Taste were signed by the record label Polydor and consequently released two albums, the self titled Taste in 1969 and On The Boards which followed in 1970. Both albums were early indicators of what was to follow, including Gallagher's sensational songwriting ability and his unique, emotionally charged guitar playing style. After a final performance at Belfast's Queens University and due to management issues and tensions between the band, the band split in 1970.
After Taste had disbanded, Gallagher poured everything he had into his solo career. His drive and dedication showed no signs of slowing down during his twenty five year solo run as he sold over 30 million records during that period. It is during this time that Gallagher truly established himself as one of the all time greats and consequently became a role model for following Irish musicians. Taking inspiration from the soul and technicality of American blues players such as Lead Belly, Son House, Lightnin' Hopkins, Robert Johnson and Howlin' Wolf, Gallagher developed a style of guitar playing and songwriting which helped to bring the blues into a new era.
The heart and soul of the blues remained at the core of everything that Gallagher produced throughout his career. Gallagher played everything with a sincerity and emotion that continues to influence guitar players today. His dynamic range was exquisite and unparalleled, as he somehow managed to play explosive and intricate guitar solos with such delicate flow. Even at the early stage of his career, Gallagher's peers raved about his technical ability. Famously, when none other than Jimi Hendrix was asked what it's like to be the best guitarist in the world, he replied by saying "I don't know, go ask Rory Gallagher".
Let's take a look at some of Gallagher's finest solo efforts.
Rory Gallagher
After splitting from Taste, Gallagher had to put together a band for his solo work. The story goes that Gallagher tested two options for his rhythm section, one of those being the English duo, Mitch Mitchell and Noel Redding, who had played with Hendrix up until his death in 1970. But instead, Gallagher chose Gerry McAvoy and Wilgar Campbell, the rhythm section of Belfast band Deep Joy, who had supported Taste during the band's Irish tour in 1968.
Returning on Polydor, Gallagher released two albums in 1971, and the self titled Rory Gallagher demonstrated the guitarist's diversity as he drew influence from a variety of styles under the umbrella of blues, R&B and rock. Wave Myself Goodbye features old timey piano blues mixed with hints of country guitar progressions and Gallagher's soulful vocals. Inspired by the British Folk Revival, Just The Smile features choppy vocals and acoustic guitar transitions that wouldn't sound out of place on some of Jack White's recent solo efforts. Hands Up is a classic rock and roll jive and It's You features some stellar honky tonk slide guitar. Gallagher was also an accomplished saxophone player and after playing on some of Taste's records, Gallagher incorporated the sax into his setup once again on Can't Believe It's True.
Live In Europe
Gallagher looked and sounded effortlessly cool when performing live. It also appears to have been when Gallagher was most comfortable. Therefore, capturing a number of his live performances over the course of his career now seems like a vitally important way to help document Gallagher's journey. Just two years into his solo career, Live In Europe was released in 1972. The result is an explosive and compelling album, with the superb connection between all three musicians highlighted and captured in their most natural environment. The performance is nothing short of confident.
Gallagher comes across as endearing when addressing the crowd, but it's the music that talks most powerfully. The album features an eclectic mix of songs, including some understated moments with the inclusion of Gallgher's cover of Blind Boy Fuller's Pistol Slapper Blues where a stunning fingerpicking guitar style is performed. There are moments in Bullfrog Blues where Gallagher imitates his guitar solos with his singing, demonstrating a flawless connection between himself and his instrument. Live In Europe was Gallagher's highest charting position as it peaked at number nine in the UK album charts.
Tattoo
The 1970's were an incredibly prolific time for Gallagher. With the release of Tattoo in 1973, he had produced five albums in just three years and by the end of the decade, Gallagher had released a total of ten albums. Constantly entering new territory, Gallagher displayed a deep knowledge of more musical styles with tracks like They Don't Make Them Like You Anymore as he incorporated a swinging big band jazz sound with rock and roll.
It's in tracks like this that Gallagher's perfect blend of intricate guitar playing and sublime melody shine bright. Who's That Coming features some impeccable slide guitar while accompanied by a deeply infectious and naturally cool groove. A Million Miles Away feels like a reflective moment on the album, featuring a powerful brass section, incredibly passionate vocals from Gallagher and stunningly epic outro. Tucson, Arizona ties the album off perfectly with hints of American country artists, such as Hank Williams, pleasantly present.
Against The Grain
After signing with Chrysalis Records, Gallagher released Against The Grain in 1975. The album appears to deal with Gallagher's relationship with the music industry and his lack of desire to be another cog in the machine hence going 'against the grain'. Cross Me Off Your List starts out as a funk jam and the track evolves to find Gallagher at his most experimental with hints of peak 1960's Cream present in the band's sound. Against The Grain packs power and pace like much of Gallagher's work. All Around Man features some of Gallagher's seamless signature to-ing and fro-ing between the guitar, harmonica and vocal melodies. Out On The Western Plains is a cover of Lead Belly's 1946 song and one of many nods of appreciation that Gallagher made throughout his career to the blues artists that helped to shape his own guitar playing. Also in 1975, Gallagher is said to have jammed with The Rolling Stones as they were looking for a replacement guitarist following the departure of Mick Taylor. However, it wasn't to be as Gallagher decided to continue focusing on his solo career and Ronnie Wood took the spot.
Fresh Evidence
Skip forward to 1990 and after constant touring and recording, Gallagher released what would end up being his final studio album, Fresh Evidence. As he did throughout his whole career, Gallagher ultimately let his guitar playing do the talking. Even during the recording process of Fresh Evidence, Gallagher stuck to what he knew best and used analog equipment at a time when recording and production techniques were moving more and more to digital. His raw and electrifying guitar playing is front and centre of a record for one last time. A stand out moment on the album is presented in the form of another cover, this time, one of Delta Blues legend Son House's tracks, Empire State Express. The stripped back performance feels like an iconic moment on Gallagher's final album as he shows his appreciation one last time to those artist's that made him the player he was, while also demonstrating his stunning contribution to the world of blues.
Following the release of Fresh Evidence in 1990, he embarked on a world tour in 1991. In the following years, his health deteriorated and after complications following a liver transplant, Gallagher died on 14th June 1995.
Gallagher remains incredibly influential to guitarists all around the world today but there is a particularly strong and special connection between Gallagher and his homeland, as he showed just what is possible from within these shores. Gallagher has been commemorated in his hometown of Ballyshannon with a statue and in Dublin, a sculpture of his legendary stratocaster hangs gloriously in Temple Bar under the Rory Gallagher Corner street sign.